There was a time when pretty much the only websites that operated under an SSL certificate - that's a security certificate that assures your computer is communicating with a web page over an encrypted connection - were sites that collected personal payment information or other sensitive data.
Recently, however, there has been a real push to get more and more websites using SSL certificates, with some of the major browsers like Chrome and Firefox actually going out of their way to flag sites that aren't using them. That's good news because it's going to cut down on fraud and spoofing of sites. But it's bad news if your site isn't operating under an SSL certificate already.
In this tutorial I'm going to show you how you can join the SSL secured crowd and get a free SSL certificate and easily set it up for your website to use. Now the ssl certificate that we're going to get for free is through the certificate authority "Let's Encrypt" and that's who Cybersalt Hosting is set up to issue free certificates through.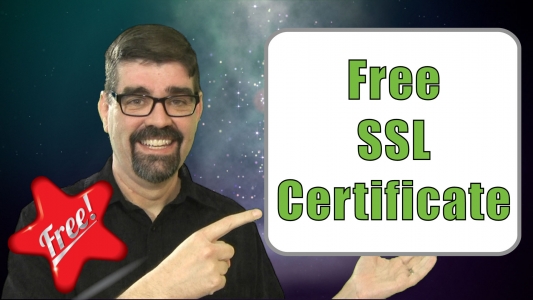 Now, if you're not hosting with Cybersalt Hosting you should check with your web host and look in your control panel to see if Let's Encrypt is already there and you haven't noticed it yet. If it's not, contact your web host and ask them to add it or if you want you, could always move your hosting to Cybersalt Hosting and if you're interested in that, or knowing more, contact me; This email address is being protected from spambots. You need JavaScript enabled to view it.. But right now we'll see how to do it on Cybersalt Hosting
First of all, let's take a look at this screen here and you'll see this is the Let's Encrypt homepage. It's sponsored by some pretty heavy-duty companies as we see here: Mozilla (they make Firefox), OVH - a great server company (that's where I have the Cybersalt servers hosted), Chrome (Google Chrome), Facebook - there's a big company - and Shopify. Interestingly my daughter is a Shopify guru - she does tech support for them. Basically these companies are contributing and donating money to Let's Encrypt so they can run the certificate service for free and make it secure and that's why you don't have to pay for the certificate.
To set it up what you want to do is log into your cpanel web hosting control panel and then scroll down or find the area - your order will be different - go down to where "Security" is. In security we're going to look for this icon "Let's Encrypt SSL". We're going to click on that and then here you can pick the domain - I'm going to do it on my basicjoomla.com site here - you can pick the domain that you want the certificate to be working for.
Now quickly, let's just go to this tab where I have Basic Joomla and this is sort of just a very basic page I do tutorials for this product, Joomla!, which makes web pages. I'll put a card here if you want to go to that channel if you're looking for a great system to use for making your own web page and it works great on the Cybersalt servers.
As you'll see up here on this information button we just have www.basicjoomla.com. If we click the information you see it says, "Your connection to the site is not secure. You should not enter any sensitive information on this site (for example passwords or credit cards it could be stolen by attackers)."
In fact, if I put the beginning of "HTTP://" and hit enter, it disappears. We just know that this is not a secure connection. What we want is to be able to put "HTTPS://". So basically it's saying the Hypertext Transfer Protocol Secure for this website.
Now, if I could enter right now we're going to get this "Whoa your connection is not private get out of here back to safety or you want to ignore it" because you don't have that certificate set up. But now, let's do that. Going back into the cpanel control panel, we're going to pick basicjoomla.com - it's the only domain on this particular account that we can set up a certificate for - and we're just going to click on issue. Then we'll be given a couple of choices. Do we want to secure mail.basicjoomla.com? Well if you're sending or receiving mail through your domain, yes you want to do that, so look include is already clicked. Do you want to secure the webpage www.basicjoomla.com? Yes and that's checked.
Then you'll see this final check box down here which is "Install mail smtps, pop3, imap ssl certificate for basicjoomla.com So basically, this will allow all of these services for sending and receiving mails to be secured under the same certificate, so we'll leave that checked. All that's left to do now is click issue . . . we wait just a teeny bit while the server is running and installing all of that . . . and it says the SSL certificates is now installed on the IP address and everything's restarting.
So now, if we go back to this page here which was a privacy error "https://basicjoomla.com," let's just select that and go enter and now we're greeted with this very plain page, but look we've got a green lock up there and it says secure. We click on that: "You're information (for example passwords or credit card numbers is private when it is sent to this site) and now Google and Chrome and other browsers aren't going to flag your site and your site is more secure and when people go and visit it they'll see that green check - not check mark, but padlock - and they'll know that their data is being encrypted when it goes from their computer and is received on the web page on the server that they're viewing
So, that's how to get a free SSl certificate through Let's Encrypt and that's showing you how to do it on cybersalthosting.com. It may work the same for your host and again if you're looking for a new host that will give you one for free: I'm your guy, email me! So thanks for watching this channel. I hope it was helpful. If it was, please give it a thumbs up and if you haven't already subscribed to the channel please do so! Click "subscribe" and don't forget to "ring the bell" so that when there's a new tutorial you'll be alerted right